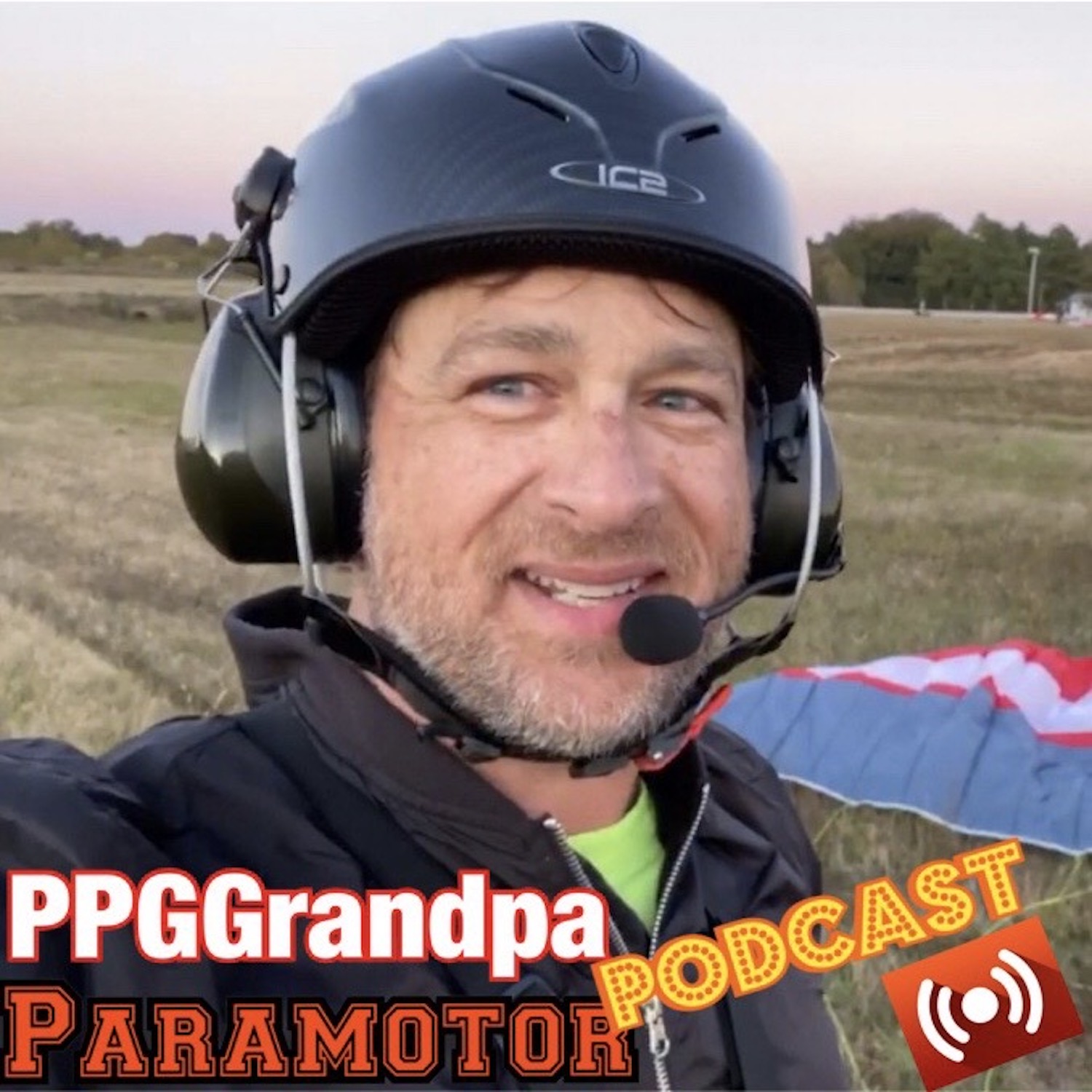 Paramotor Podcast for Newbies, Advanced and Instructors..We bring you fresh new pilots, seasoned pilots, importers, distributors and advanced pilots to talk about paramotors and interesting things about ultralight flying.. listen now...its free. Learn to fly at www.ParamotorArkansas.com and disabled vets get to fly at www.RunIntoTheSky.org Who is PPG Grandpa? His name is Sean Symons from Conway Arkansas. He runs a paramotor flight school called Paramotor Arkansas. Sean was in the USMC and is a disabled vet which is why he and his friends started up the non profit org to help vets get into the sky and get quality gear after training. Find Sean Symons on FB at www.FB.me/ShawnFitness #paramotor #RunIntoTheSky #podcast
Episodes
Tuesday Oct 31, 2023
Tuesday Oct 31, 2023
Run Into The Sky Inc. Paramotor Podcast
Ep 191 - Cold weather gear What do you fly during the cold months of the year? What do you wear?
Donate to $RunIntoTheSky http://www.RunIntoTheSky.org
#RunIntoTheSky #Paramotor #Nonprofit HELP SUPPORT THIS SHOW AND THE NONPROFIT 501 (c)(3) By donating at https://runintothesky.org/donate
 ALL DONATIONS ARE TAX DEDUCTIBLE HELP US by sending a self addressed stamped envelope with any gift amount to help disabled vets and people wanting to Run into the Sky! We are giving away a NEW RESERVE! By sending a self addressed stamped envelope, we will send you stickers and raffle tickets!
We will draw after we get $1000 in donations!
Run into the Sky Inc.
ATTN: RESERVE GIVE A WAY
3820 Dave Ward Dr
STE 1900 Number 111
Conway, AR 72034
WIN PRIZES - Help our mission! Train and get new paramotor gear for disabled veterans and others great training and if needed, adaptive paramotors and trikes so everyone can enjoy this amazing sport! WE ARE GIVING AWAY A FREE APCO MAYDAY 20 RESERVE! https://www.apcoaviation.com/mayday-paraglider/
Buy me a cup of coffee https://www.buymeacoffee.com/PPGGrandpa
We will do a big give away monthly for the people who send in a self addressed stamped envelope Shout out to a few members of this channel: John Wayne Brian Waller Kent Stamey Wade Collins Dave Burnside Erik von erik geriatricPPG Sponsors: Aurora PPG https://aurorappg.org
Our mission is to increase the participation of women and girls in the sport of powered paragliding through experiences, education, training, and community with a focus on its use in overcoming past trauma. Paramotor Arkansas Flight School - http://www.ParamotorArkansas.com
Care Printing and Publishing - http://www.CarePP.com
Vortex Aero - https://vortexaero.com
SkySportsUSA - https://skysportsusa.net/
Run Into The Sky Non Profit Org - http://www.RunIntoTheSky.org
Dedicated to serving disabled veterans by providing them with the opportunity to experience the excitement and freedom of flight. Our mission is to empower veterans through the transformative power of paramotoring, helping them to rebuild their confidence, find a sense of purpose, and connect with a supportive community.
SkyTap Paramotors http://www.SkyTapParamotors.com
Paraglider Inspection https://paraglider-inspection.myshopify.com/
Skylab SIV https://skylabparamotorsiv.com/
Serenity Island https://serenityisland.org/
Kangook America http://www.KangookAmerica.com
ParaSwagUSA http://www.ParaSwagUSA.com
Airsports USA https://www.facebook.com/FLYAirSportsUSA/
Paramotor Merch http://www.ILovePPG.com
Fly Dragon PPG http://www.FlyDragonPPG.com
Pendulum Junkies https://pendulumjunkies.com/
Follow PPG Grandpa on PendulumJunkies https://pendulumjunkies.com/view_profile/1670897230022x278770625982249120
Join this channel to get access to perks: https://www.youtube.com/channel/UC_Apx0LrH3YglzDhFUbS0HQ/join
Who is PPG Grandpa? Sean Symons also known as PPG Grandpa has been flying paramotors since 2019. He is based in Conway Arkansas and is part of the Conway Flyers Club. He runs a paramotor podcast which first aired January 2020 at http://www.ParaTalk.org
Sean runs a paramotor flight school .... Ready to learn how to fly ? http://www.ParamotorArkansas.com
New classes start EVERY WEEK!!! Sean Symons (PPG Grandpa) is on facebook http://www.FaceBook.com/ShawnFitness
TubeBuddy has been a game-changer for my YouTube channel's growth. They have tons of free tools including their upload checklist. It turns out, I was missing out on some pretty crucial steps! Link in bio for more info. https://www.tubebuddy.com/PPGGrandpa
BEST FREE Unlimited Royalty Music Epidemic Sound: https://www.epidemicsound.com/referral/by49g8
#paramotorpodcast
#paramotor
#ppggrandpa
#ppg
#nonprofit
#flightschool